Manton Community Alliance, Project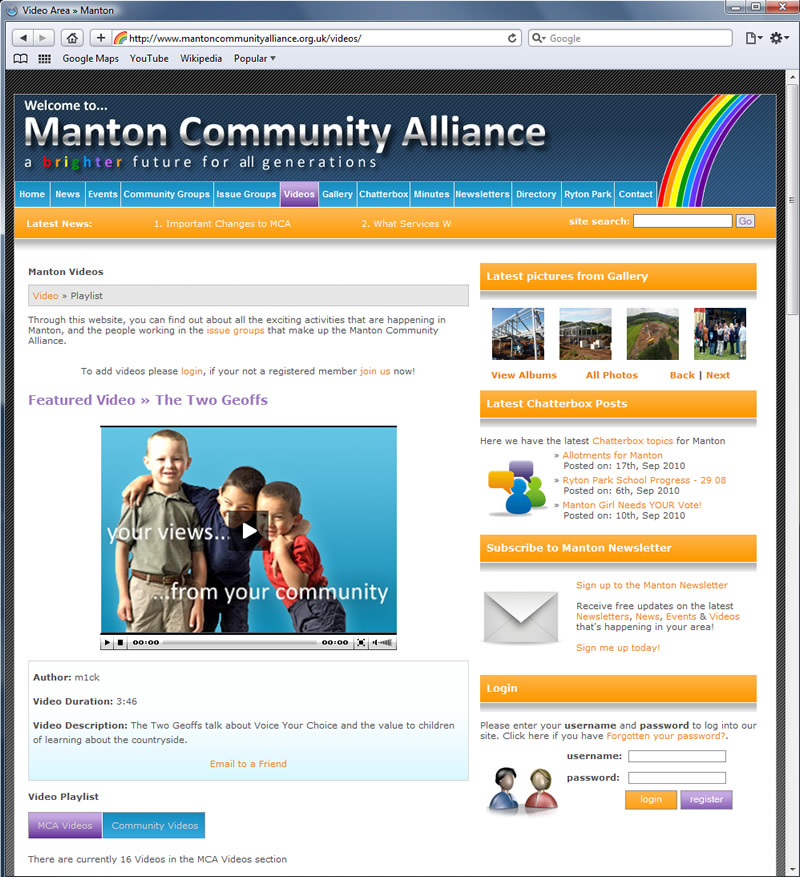 Description
The manton platform delivers all types of rich media content to users in a friendly and fun environment. This site is completely hand coded from scratch.

As the site's target audience was the community this meant there was no set demographic; a whole range of ages, social classes, backgrounds and interests were taken into account when creating this site.

It provides an interactive fun environment for users to easily navigate to information and interact with the community either by leaving messages, pictures or videos.
Other features included community group section pages that displayed information that could be updated by individual groups with their own secure access to the site.

The site is heavily dependent on the users to generate interest and content. The site also provides a gateway of access to information old and new such as the newsletter section. The site also has the ability to receive e-newsletters if you are either registered or a current subscriber to the site.

The News and Events section to the site provide information about activities, events, fundraises and much more to engage and connect the local community.
Brief
I was informed to create a visually stimulating website that appeals to all different age groups. Manton were also keen to improve the amount of younger users to the site. The site was to provide an interactive and intuitive method of displaying information to the local community in a simple manner.

A user registration was needed to analyse the demographic of their users and this would provide users with access to features and communication applications. There was to be several features incorporated such as a forum; so community members could communicate to each other via the site. Also a Video/Picture Gallery; where the videos of local Events could be uploaded by both staff and registered site members.
Features
// split commas. $techs = explode(',',$project['Project']['features']); foreach ( $techs as $value ) { echo '
'.$value.'
'; } ?>
Technologies Used
// split commas. $techs = explode(',',$project['Project']['technologies']); foreach ( $techs as $value ) : echo '
'.$value.'
'; endforeach; ?>