Burnley Markets, Project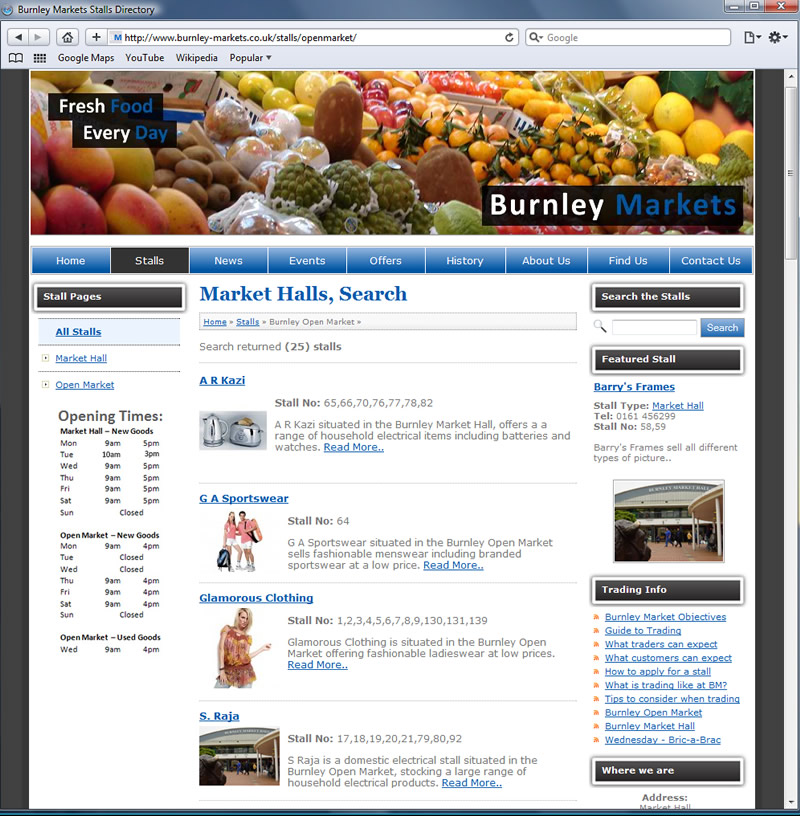 Description
Interactive website that shows layout and lists all stalls and products they sell. This site is completely hand coded from scratch and is fully standards compliant.

This website gives the stalls & businesses of the markets an online presence and gives the visitors to the site information in a clear and concise manner.

The site also allows users to print of offers to use within the market, which businesses can add from within inside a secure admin panel.

The site draws information from a variety of sources which enables the site to stay relatively up-to-date with fresh content without relying on constant human interaction.
Brief
The brief was to create a modern image for the market. I was asked to create an online platform for the businesses of the markets.

Also the colour scheme was asked to relate to the current colours of the existing market.

The main aim was to create a professional online presence for Burnley Markets.
Features
// split commas. $techs = explode(',',$project['Project']['features']); foreach ( $techs as $value ) { echo '
'.$value.'
'; } ?>
Technologies Used
// split commas. $techs = explode(',',$project['Project']['technologies']); foreach ( $techs as $value ) : echo '
'.$value.'
'; endforeach; ?>
This Project
Other Projects