Profile Planning Services, Project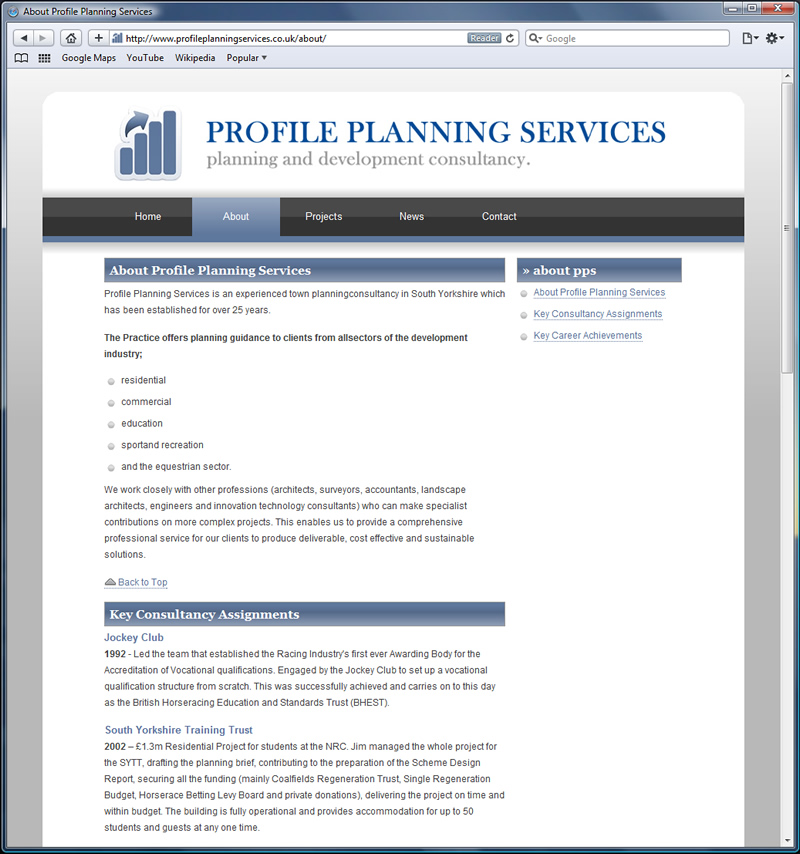 Description
A simple professional website for an experienced planning consultancy company. This site is completely hand coded from scratch.

This website demonstrates large amounts of information regarding the company but in a structured and simplistic way;

1) What the company does
2) Previous projects and case studies
3) What you can expect from the company
4) Latest News relevant to existing and potential clients
5) Also showing an indepth amount of information regarding the status of the company.

The navigation provides an easy to use user-friendly environment. Simplicity is key here.
Brief
I was asked to create a simple yet professional site. The main objective was to give the company an online presence, to provide potential clients/users with an interface of their previous case studies/projects and also learn about what the company does.

The colour scheme was of a simple letterhead provided from PPS blue and grey, this was to be used in conjunction with the website.

Another important element for the site was to emphasise the amount of years PPS has been operating as a company and dealing with clients for over a 25 year period.
Features
// split commas. $techs = explode(',',$project['Project']['features']); foreach ( $techs as $value ) { echo '
'.$value.'
'; } ?>
Technologies Used
// split commas. $techs = explode(',',$project['Project']['technologies']); foreach ( $techs as $value ) : echo '
'.$value.'
'; endforeach; ?>
This Project
Other Projects