Beauchief Abbey, Project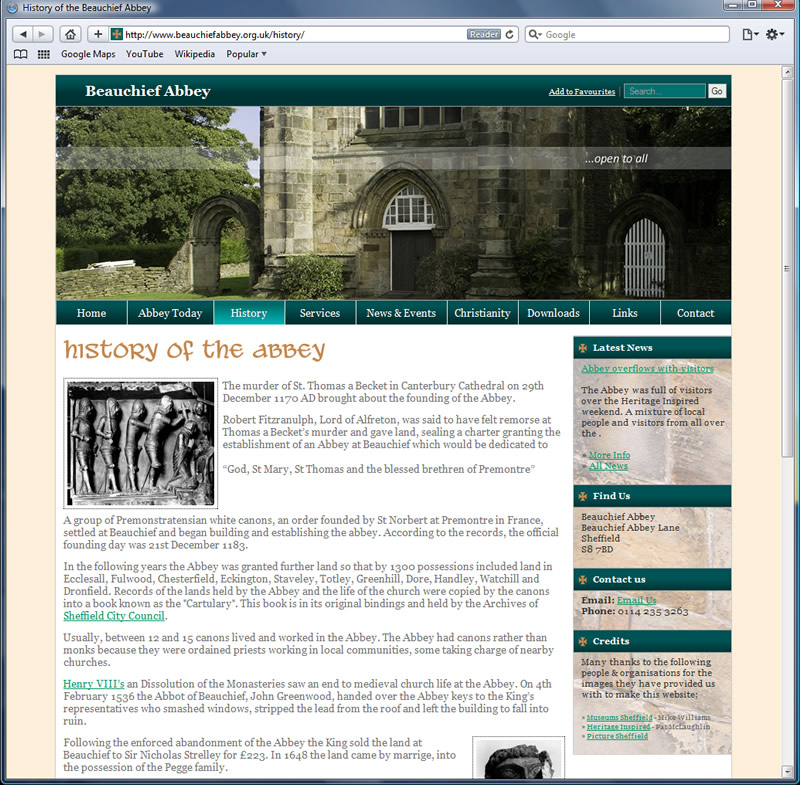 Description
Provides a historical reference and promotes local news and events. This site is completely hand coded from scratch and is fully standards compliant.

This website provides information in an informative and professional manner on the Beauchief Abbey. There are a number of features to give this site an interactive edge over many other similar religious sites.

There is an interactive floor plan layout of the Abbey which users can guide their way through the building.
There is also a host of historical information regarding the Abbey which is portrayed in a professional and simple manner. This site also has the ability to provide information on the latest news and events for the area surrounding the abbey.

There is also a section for guest priests and the local speakers. There is also a contact feature for the site which allows you contact the people that work in the abbey directly.
Brief
The brief was to provide the Beauchief Abbey with a design with quite a gothic style however bringing it into the modern era.

The homepage was to provide a gateway to different areas of the site with ease. The 3 boxes help to aid the user into finding the relative information.

The brief for the development was to keep the functionality simple while allowing users to interact with the site, the floor plan demonstrates this. The main aim of the site was to allow the public to access information easily.

I was also asked to create an area of the site for Christianity which incorporated its own basic design to hopefully show the message plain and simply.
Features
// split commas. $techs = explode(',',$project['Project']['features']); foreach ( $techs as $value ) { echo '
'.$value.'
'; } ?>
Technologies Used
// split commas. $techs = explode(',',$project['Project']['technologies']); foreach ( $techs as $value ) : echo '
'.$value.'
'; endforeach; ?>
This Project
Other Projects